At Deal Town Council, on 23rd February, Green Cllr Mike Eddy (Mill Hill) tabled a recommendation for the triangular green space with 3 TPO protected trees on Freemens Way be given added protection through designation as 'community asset' (ITEM 13 Agenda). Unfortunately the majority group decided to close the meeting before this could be voted on, but Mike will keep bringing this up at the next meeting. All four Green councillors on Deal Town Council have been asking for progress on implementing the Climate Emergency Declaration (NET ZERO 2025) on 25 June 2019 to be speeded up. They have been delighted to work cross party on the excellent DealTC Cycle-friendly, the safer Sat Market and the Walkers are welcome - Green tourism initiatives.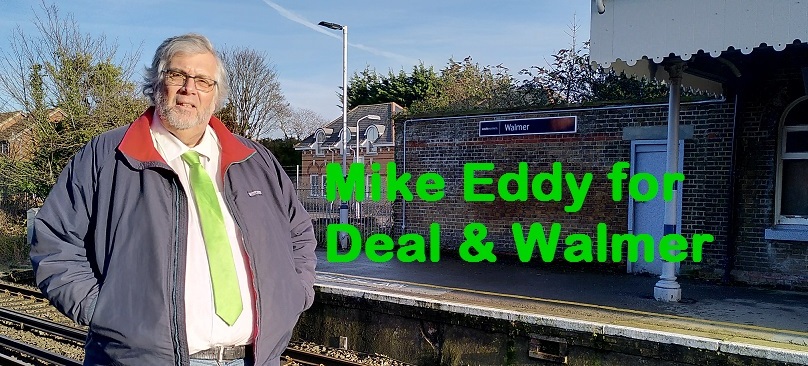 Mike has a wealth of experience on planning matters which have helped the 3 parish / town councils on which he holds a seat to prepare robust responses on the DDC new Local Plan consultation.
He is the vice-chair of the Indy-led Walmer PC and is also an active member of the team on Ringwould with Kingsdown PC.
He says, ' These are very, very tough times we are facing in East Kent, it was discouraging for example that Kent and Medway CCG weren't able to start vaccinating here until 14 January, 4 weeks after vaccinations started in West Kent on 15 Dec, but the strain, fragmentation and cuts that Conservatives have subjected our NHS systems to since 2010 tell their own tale. '
Mike's experience serving as an elected KCC councillor elected in 1997, 2001, 2005 and 2013 is an enormous help to our local party's work on the issues of social, environmental and climate justice affecting our communities. We were delighted to select him to stand as Green Party candidate for Deal and Walmer in this year's (6th May) Kent County Council elections.