Greens volunteer to help Energy Advice charity reach people in need.
The charity Groundwork South and their Green Doctors service are recommended by a number of local authorities in Kent and they are non-party-political.  They provide a free advice service to those struggling with energy bills. And extra support to those struggling who are on pre-payment meters.
Since Covid, they have had to cut back on face-to-face advice and provide advice to over the phone by those who telephone them. But often those who most need their support really need a  face-to-face  meeting. And it can help if the advisors can look at the energy bills people are receiving.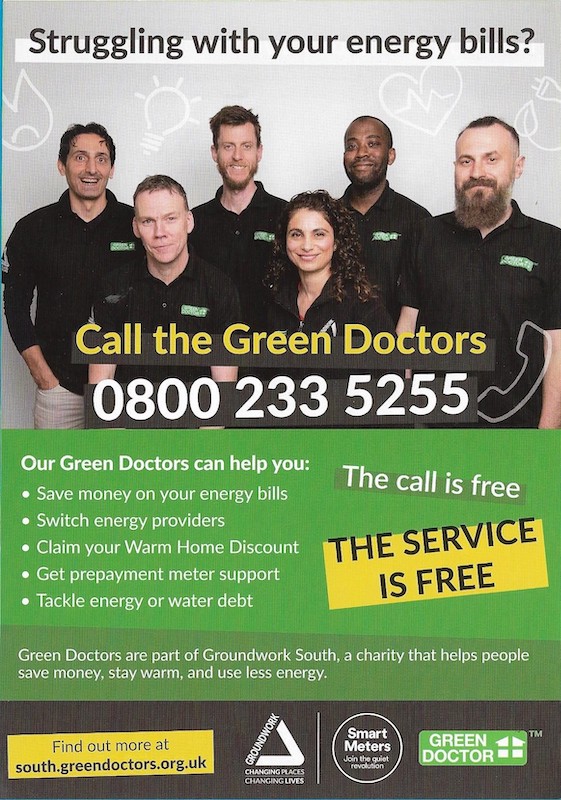 Volunteers of Dover and Deal Green Party, Aprilia and Liz and Sarah - have therefore reached out to book 10 opportunities when the Green Doctors advisors can attend existing community events (Farmers Markets, coffee mornings etc) to help this service reach folks who need them most in Deal and Dover and Villages this summer.
Each 1 hour session aims to share ideas on how neighbours can help one another,  get personal advice from 'Green Doctors' and share energy saving tips and tools.
By having the tools to keep warm and healthy while saving energy, these new sky-high energy bills can be controlled to somoe extent. We also call on central government to do the sensible thing, impose a windfall tax on the Oil and Gas energy giants, and offer free insulation  (or interest-free loans so many more homes can be well insulated).
The cheapest energy is the energy we don't need to use!
When
Where
Tue 17th May 11:00 – 11:45
Coincides with sociable session
Sutton : East Studdal Church Hall, Downs Rd, Sutton, CT15 5DB
Thu 9th June 10:00 – 11:00
Coincides with coffee morning
St Martin's Church, 37 Church Rd, Elms Vale, Dover, CT17 9LW
Fri 10th June 10:30 – 11:30
Coincide with visit from Deal FoodBank van.
Gazebo; outside Elvington Community Centre, St Johns Rd, Elvington, CT15 4DZ
Thu 23rd June 10:15 – 11:45
Coincides with regular Coffee Morning
Eastry Village Hall, High Street, Eastry, CT13 0HD
Sat 2nd July 11:00 – 12:00
Coincides with Sat market
Tilmanstone Village Hall, Chapel Rd, Tilmanstone, CT14 0JF
Tue 5th July 13:00 – 14:00
Overlaps with Deal Foodbank session 12:00-14:00
St Richards Church, 165 Mill Hill (corner), CT14 9JR
Thu 14th July 10:30 - 12:00
Coinciding with farmers market 9:00-12:00
Whitfield Village Hall, Manley Close (off Sandwich Rd), Whitfield, CT16 3LY
Thu 4th August 14:00-15:00
Coincides with Tea & Chat
St Nicholas Church, Ringwould, Church Lane, CT14 8HR
Wed 10th August 11:00 – 12:00
After the Rural Communities Coffee van
Kingsdown outdoors (weather permitting), Kings Close on the green, Kingsdown, CT14 8BA