Protests against the cruel and callous sacking of experienced P&O ferry workers were widely supported. The Dover protest at noon Fri 18 March included hundreds of angry ex ferry workers, union representatives especially Union of the Rail Maritime and Transport Workers and representatives of many parties who prioritise social justice, such as the Green Party. 
Representatives of Dover & Deal Greens were part of the protest.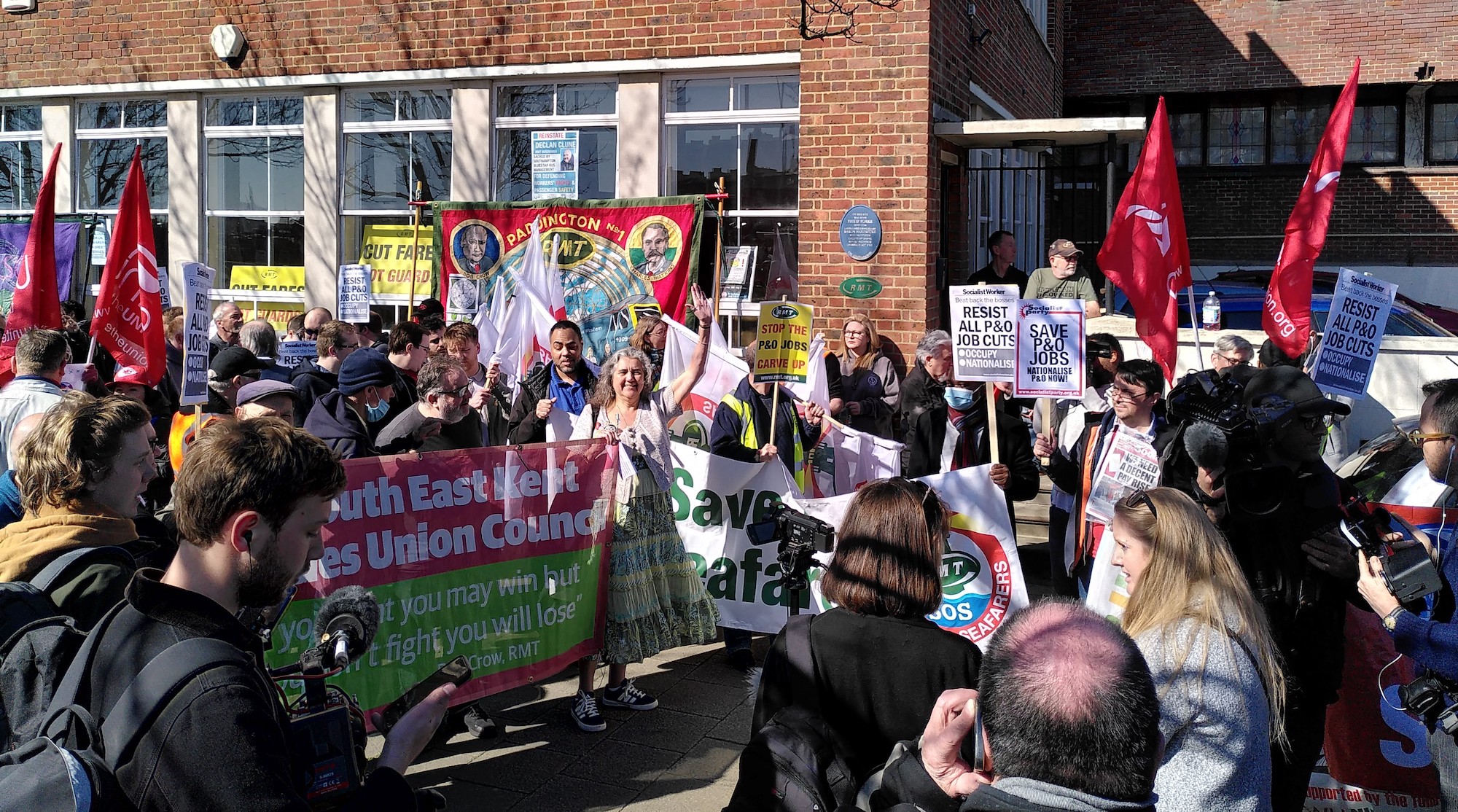 We locally are very aware that the P&O sackings happened 11 days after the 35th anniversary of the tragic sinking of the Herald in 1987 off Zeebrugge, and Green Dover town Councillor, Beccy Sawbridge said,"we in Dover need no reminder of the links between decent working conditions and maritime safety, we know what we need to fight for in our community".  
26 elected Green councillors in Kent and the co-chairs of the Kent Confederation of Green Parties, Stuart Jeffery and Mandy Rossi put out a strong statement of support on Friday 18th (see below). Signatories included all the Dover and Deal Party town and parish councillors (4 Deal TC, 3 Walmer TC, 1 Dover TC and 2 Ringwould w/ Kingsdown). Cllr Mike Eddy said, "the legality of the sackings must be subject to a judicial enquiry".
The Green Party Trade Union group have also strongly supported calls to force P&O Ferries to think again, using sit-ins if necessary and say if they don't "The UK should be prepared to nationalise P&O Ferries, without compensation, and reform the company to hand workers greater power over their working conditions."
Press Statement from elected Kent Greens
Kent Greens are appalled by the callous behaviour of P&0 Ferries across the UK, and specifically in Dover where most of the 800 national dismissals are; loyal workers dismissed without notice. Many workers have been with the company for up to 40 years and to be made redundant by video message is cold-hearted and reflects the company's complete lack of respect for workers rights and lack of empathy for its employees.
We are staggered that no negotiation has taken place with the National Union of Rail, Maritime and Transport Workers as is compulsory for redundancies and that a replacement workforce has already been installed as an alternative to the existing skilled and vastly experienced workforce.
The government needs to intervene immediately to resolve this issue and reinstate workers who have served the country and company through the pandemic and who have been supported throughout the period by the furlough scheme. The impact of these dismissals will be
felt across the East Kent community and will be hugely damaging for our local economy and local living standards.
Signed
Co-Leaders Kent Greens: Stuart Jeffery & Mandy Rossi
Green KCC chirs: Mark Hood, Rich Lehmann, Paul Stepto, Steve Campkin
All town and parish councillors of Dover & Deal Green Party (4 DealTC, 3 WalmerTC, 1 DoverTC and 2
Ringwouldw/KingsdownPC) Spokespeople on P&0 issue: cir Beccy Sawbridge (DoverTC) Sarah Gleave
Tonbridge & Malling BC: Mark Hood, April Clark, Anna Cope, Nick Stapleton
Ashford BC: Dawnie Nilsson Geoff Meaden, Liz Wright & Steve Campkin
Folkestone & Hythe DC; Leader Green group Lesley Whybrow, Georgina Treloar, Rebecca Shoob, Doug
Wade & 2 others.
Thanet DC: Mike Garner, Becky Wing, Tricia Austin & Abi Smith
Dartford BC; Laura Edie
Canterbury CC, Clare Turnbull
Swale BC. Tim Valentine + another)